Sound Equipment Rental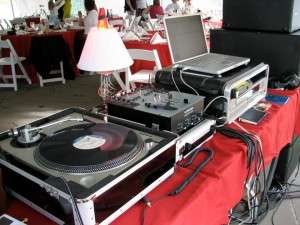 Renting sound equipment for your concert, event, or an "ipod wedding" is becoming more popular as families find themselves working within a strict budget. It also lets savvy music lovers to put together their own playlist for the cocktail hour, ceremony and/or reception. Prices are less than the DJ rate, and we are willing to work with you on a budget. Pro setup is available, as are smaller systems.
Rentals –
Looking for a live DJ?? Click here for more details.
Pro DJ Setup, including two powered speakers, powered sub and mixer, all the cables and a mic for announcements.
Mid sized rental – Two speakers, cables, mixer, mic.
Small rental – a PA (public address) integrated amp and mixer. We use the Soundcraft 600, 300 watts with Mackie speakers and stands.
Smallest system – a Kustom 80 watt mixer with small Kustom or Peavey speakers. This is great for small gatherings, parties, background music.
Bands can also rent equipment and book us to engineer your nite, just call for details.
*Does not include setup/transport fee. Damage deposits covering the replacement costs are also required. Call for details or fill out the contact form below.